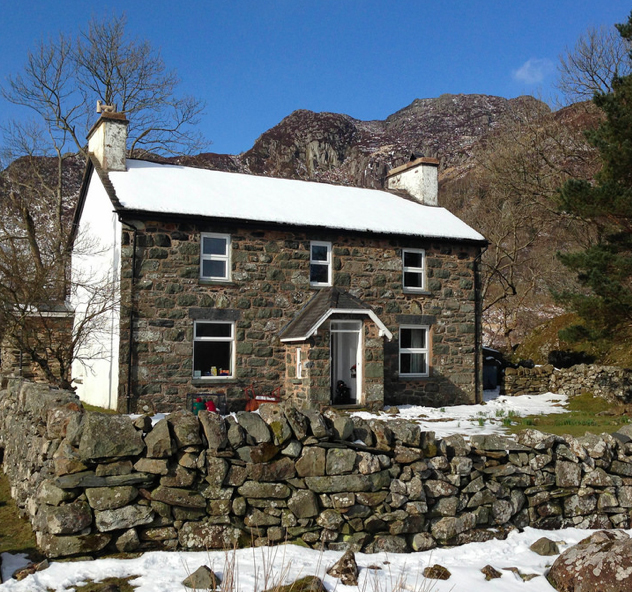 The Mynydd Club Hut is situated in the Crafnant Valley, Snowdonia (see map below). It can be booked out by external groups, please see the Hut Booking page for prices and booking form. The Hut Rules can be viewed as a PDF document by clicking on the link: Hut Rules.
Description
Blaen y nant is a stone cottage at the head of the Crafnant valley. The sleeping accommodation consists of three dormitories with 'Alpine style' sleeping platforms. Each dormitory has approximately 8 places. Additionally, there is a Members Room which is reserved for Mynydd members only and has 6 places. These are all on the first floor.
Situated on the ground floor are the shower room, the drying room, bathroom and male and female toilet facilities. The kitchen/dining room area can seat approximately 18 people. The kitchen is equipped with an electric and microwave oven, eight gas rings, a wall kettle, two fridges, toasters and a Rayburn that needs solid fuel. The latter also provides the hot water for the hut. There is a large lounge, with a wood-burning open fire and distinctive mantlepiece decoration. Fuel is provided for the open fires, whilst cooking is by bottled gas (also provided). The hut is served by electricity and water is taken from local hillside streams with U.V. treated kitchen supply. Parking is available for up to approximately twelve cars – please do not block access to the farmer's field. Note that only pets belonging to members are allowed inside the hut. For further information, please see this document: Blaen-y-nant Information
Address (N.B. this postcode doesn't mark the exact location, but the marker on the map below is accurate – follow the Crafnant Road steeply up the hill from Trefriw. Continue straight on, past the lake until you reach a gate. Pass through the gate and up the steep gravel track in front of you until you arrive at the car park):
Blaen-y-Nant Farmhouse
Crafnant Road
Trefriw
LL27 0JZ
Things to Do
The location of the hut in its beautiful surroundings allow several different outdoor activities to be engaged in without the need to drive anywhere. There are many walks, climbs and bike trails to be discovered within a relatively short distance of Blaen y nant.
Walking
The variety of terrain nearby is such that one can take a fairly short and flat walk around Llyn Crafnant which can be accomplished within a couple of hours. Capel Curig is less than two miles from the hut and can be reached in approximately an hour. In the Valley itself a pleasant walk can be had through the forest over to Llyn Geirionydd. More ambitious walks can be done over to Llyn Cowlyd and Carnedd Llewelyn for a full mountain day.
Climbing
There are climbs of V.Diff up to about E4 all within walking distance of the hut. These are mainly one and two pitch climbs, from Forestry Buttress to S.H. Wall. No guidebook, no problem: use this link to download the free guide in pdf format from the Climbers Club Website: http://www.climbers-club.co.uk/cms/wp-content/uploads/2013/05/Cwm_Crafnant.pdf. Recently there has been quite a bit of bouldering activity, exploration of the local quarries and development of dry-tooling venues.
Mountain Biking
The Marin Trail (Gwydyr Forest) is a 25km trail of forestry trails and technical single track. The start can be reached by either a 20 minute drive or a 30 minute ride. The Penmachno Trail is approximately a 35 minute drive away. This has two loops – one 11km and the other 19km, again a mixture of single track and forest trails. There are also plenty of trails that can be 'made to measure' incorporating quiet B roads and spectacular bridleways.