Get to know us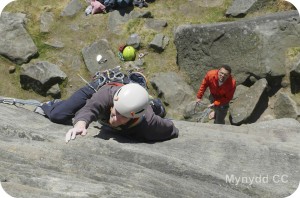 You are welcome to get to know us a bit first before joining – our meets are very informal and you only need to turn up to get a climb or two. Check our Meets page for Turn Up and Tie On events aimed at prospective members. Please contact the Membership Secretary (members@mynydd.org.uk) so that we can ensure that you are given a warm welcome.
Please see Membership for application forms and payment information.
It is assumed that you will have some climbing experience. If you are an absolute beginner, then we recommend first attending one of the introductory courses offered by all the local climbing walls.
We are a family-friendly club and supervised children of all ages are welcome on meets and at the club hut. However, we can only offer formal membership to those aged 18 or over. About a third of our members (and half of our active members) are women.